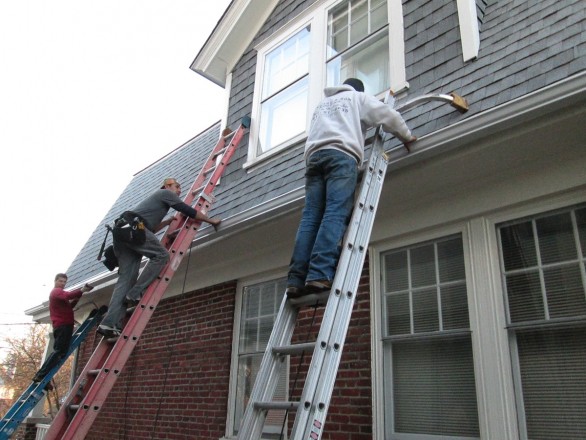 Call McCabe and Son at 610-517-6635 or contact us by form for a FREE estimate on your rain gutter installation or repair project!

Rain gutters catch the water from your roof and channel it to downspouts to direct it away from your house. When functioning properly, these can help keep water out of the basement and prevent landscaping from washing away. We replace gutters in conjunction with many of our roofing projects, but also install new gutters by themselves. We have the capability to fix any rotten wood fascia boards or moldings behind the gutters and can also offer painting, aluminum capping, or Azek trim.
Seamless aluminum gutters are the most popular and practical choice when replacing your rain gutters. The heavy gauge aluminum and sturdy screw hanger brackets stand up to the elements and have a wide opening and deep trough to handle roof water runoff. We offer seamless gutters in standard 5" or larger 6" sizes depending on the roof size and slope. The face of a seamless gutter is designed to look like a crown molding and comes with a baked on enamel paint finish in many colors to complement your home's appearance.
We are happy to provide half round gutters in copper and aluminum to homeowners who prefer their classic appearance. These were once the standard gutter profile and their timeless charm endures.
McCabe And Son also has considerable experience with rain handling systems that are part of the roofs of historic buildings. Pole gutters (also known as Yankee gutters) are constructed of a 2×4 on its side clad in metal or membrane along the eaves. Built-in gutters (also referred to as eaves troughs) are formed by internal channels to catch water and drain it through the cornice.